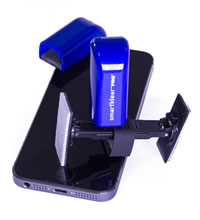 SmartKlear Pro
SmartKlear Pro has two functions in one – the cleaning pad removes fingerprints and the polishing pad removes dirt and grime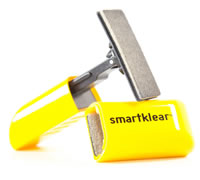 SmartKlear
SmartKlear is the perfect pocket sized smartphone accessory with a single cleaning pad for fingerprints

Smartphone Accessories
SmartKlear Pro and SmartKlear
Both devices feature the rugged carbon-impregnated cleaning pad - half the size of the ScreenKlean to cater to cleaning of the smaller screen size.
Similar to the ScreenKlean, the cap slides on and off instantly

recharging the carbon

compound in the cleaning pad
Cleaning pads have a

long life

of up to 300 cleanings
Replacement cleaning pads contribute to a

green solution

and are supplied in packages of two units

Slick unit

with no expiration date
Before and After Use
The cleaning effect of the SmartKlear Pro : Unlike Tablets, smartphones come into daily contact with facial skin. The SmartKlear Pro's dual function targets residues of hair and make up products in addition to dust and fingerprints.